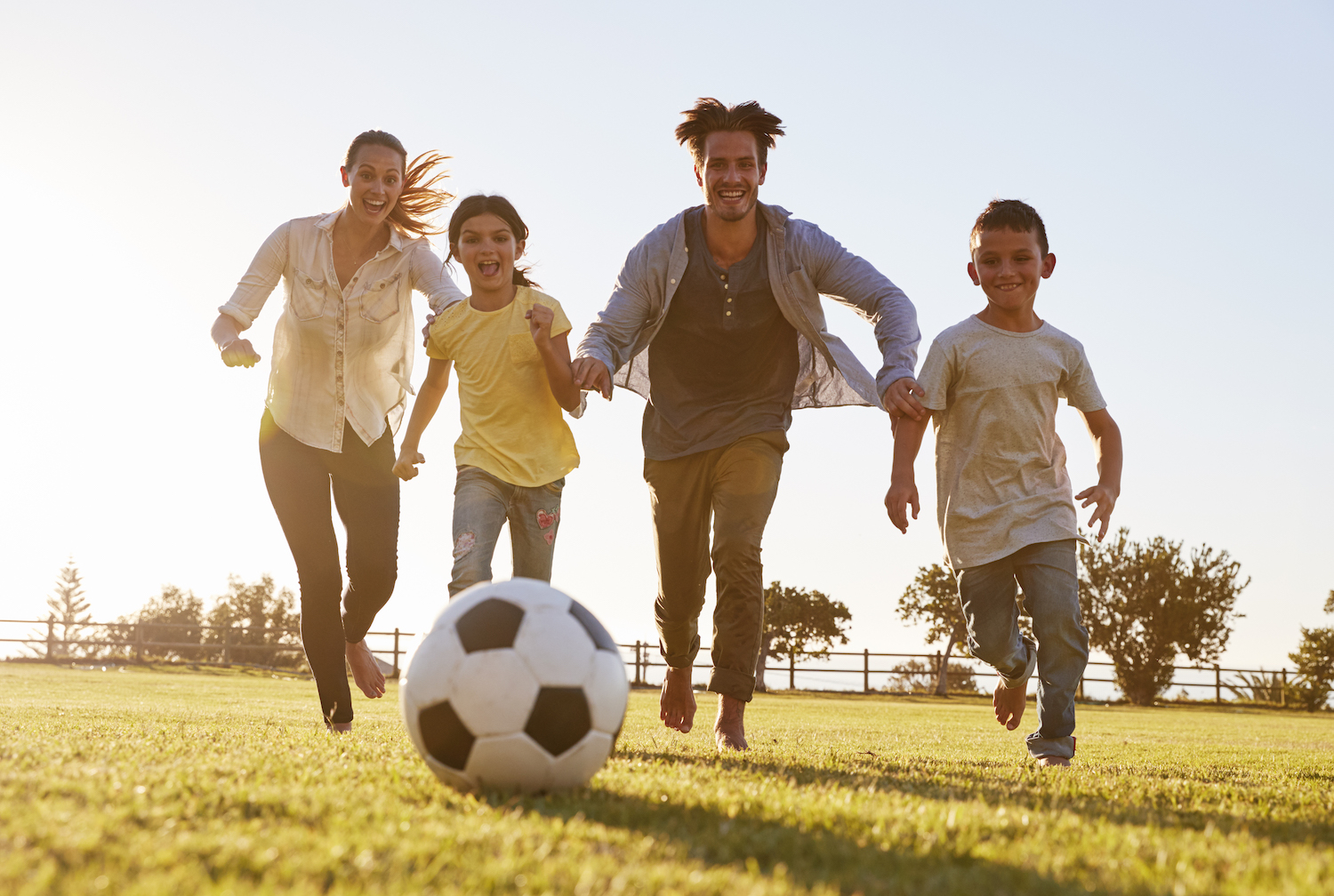 Being active is important for people of all ages, including kids, especially when it comes to physical health. But an active lifestyle can be beneficial for a child's emotional and mental health as well. If you have resolved to become more active as a family this year, the following tips can help you achieve a more active, movement-centered lifestyle. Even the busiest families can find some way to get moving!
1. Plan Outdoor Play
When it comes to deciding what to do with free time, prioritize outdoor play. There are tons of benefits of outdoor play when it comes to your child's cognitive development, in addition to their physical wellbeing. Playing outside can get the whole family into the fresh air and sunshine and help spur everyone's imagination.
2. Walk Instead of Drive
If you have to run an errand with your family this year and the weather's nice, consider walking instead of driving. Walking around town instead of driving gets everyone more active and on their feet. Therefore, it will help your child feel calm, focused and get a restful night's sleep. It's also a good way to reduce your carbon footprint. Active families who walk instead of drive lessen their impact on the environment.
3. Turn Up the Music and Dance
When your family is at home, turn up your favorite music, and have a family dance party. Not only are dance parties fun and a great way to bond, they're also a good way to introduce your child to some of your favorite tunes. Dance can also be therapeutic for some children who have trouble expressing emotion or soothing anxiety.
4. Choose Toys that Encourage Movement
When toy shopping for your kids, choose ones that incorporate movement (like jump ropes, balls, kites, and more). If you choose toys that get your kids up and moving around instead of sitting and stationary, you can ensure that your kids are active during their playtime. Some other toys that encourage movement are skateboards, roller blades, bicycles, frisbees, croquet sets, and more.
5. Get a Dog
If your family is interested in having a pet, consider getting a dog to help infuse some activitiy into your regular routines. A dog requires regular walking. He may also require playing, grooming, petting and more. Dogs can add energy and life into a home, and if you feel ready to have one, they can greatly encourage your family to get moving.
6. Explore Your Town
Make life more of an adventure by committing to regular weekly or monthly local adventures. Get out to local parks, zoos, museums, and other attractions. Exploring your area will not only make you more familiar with where you live, but it'll give your whole family a chance to get out of the house, move around and communicate.
7. Start a Garden
Gardening is a great way to get your family up and moving. Gardens can also provide your family with a food source, teach kids to appreciate nature, and improve kids' hand-eye coordination. Moving around to tend to your garden every day is an activity that the whole family can benefit from.
8. Model an Active Lifestyle
Kids tend to do what their parents do, not what their parents say. So if you want to encourage your kids to be active, make sure you model an active lifestyle for them. Exercise increases oxygen needed to help brain cells thrive, thus supporting new brain connections that keep the brain operating at peak efficiency. Exercise, walk to as many places as you can, and avoid spending too much time sitting and laying around. Modeling an active, healthy lifestyle is a good way to get your kids interested in moving, too.
9. Make a Chore Chart
Chores are a great way to multi-task: you're up and on your feet but you're also getting stuff done around the house. Assign tasks to everyone in the family, then set up a chart to keep track of who's gotten their jobs done during the week. Reward everyone who finished their tasks. A chore chart incentivizes work and encourages movement while spending time at home.
10. Limit Screen Time
Screens can be great babysitters. But, they're also not great for your child's cognitive development, and they discourage movement. Set a limit for screen time every day. Then, leave it up to your child to come up with other ideas for play. Most likely, they'll end up doing something active, whether that's playing with toys, running around outside, or spending time with you in or out of the house.
For more ideas about how to keep your active kids thriving behaviorally and cognitively, reach out to Brain Balance Achievement Centers. Our experts can help determine any particular ways your child struggles, then help your family come up with techniques to overcome any challenges.